Please contact a Coach to arrange a Private Lesson.
Tennis Coaches
Coach Name
Note
Phone
Email
Private Lesson Fee Per Hour
Semi-Private Fee Per Hour
Group Of 3 Per Hour
Group Of 4 Per Hour
Matthew Baccarani
Matthew Baccarani

, tptcpro@gmail.com
Matthew Baccarani

Thorncliffe Park Tennis Club is thrilled to welcome back our Tennis Director and Head Pro, Matt Baccarani. Matt is Club Pro 3 certified. He was a Canadian U18 National Champion, a highly ranked NCAA Division 1 player and has an extremely diverse coaching background. After graduating from Ball State University, Matt coached Sharon Fichman on the professional circuit for 3 years. He was the traveling coach for Genie Bouchard when she won her first ever pro event and the first of two Junior Wimbledon Doubles Titles. In the past 12 years, Matt has coached at York Racquets, in Midtown Toronto, where he has worked with players of all ages and levels. As a player, Matt achieved ATP rankings in both singles and doubles while still in high school. He was ranked as high as #4 and #61 in NCAAs doubles and singles, respectively and held the #1 OTA ranking for Men's Open singles and doubles at the same time. Matt is extremely excited to be back for another Summer at TPTC and cannot wait for the season to start. He can be reached at tptcpro@gmail.com
tptcpro@gmail.com
$80.00
$50.00
$40.00
$30.00
Peter Marrack
Peter Marrack

, petertennistoronto@gmail.com
Peter Marrack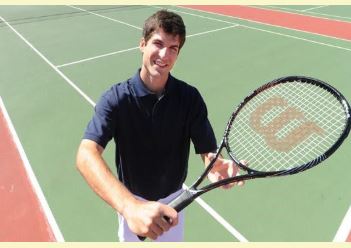 We are very pleased to announce that Peter will be back for a fourth season as a Tennis Pro for TPTC.
He will be helping our Tennis Director Matthew with our growing adult programs.
Peter is originally from St. Catharines Ontario and is currently living in Toronto. He was ranked top 5 in Canada before attending Wisconsin NCAA Div. 1. He joined the coaching staff at Madinat Jumeirah in Dubai and worked as a Senior Pro at Rosedale Tennis Club And York Racquets in Toronto. He is also a visual artist who shows work at Only One Gallery in Parkdale.
petertennistoronto@gmail.com
$70.00
$40.00
$30.00
$25.00
Rhys Woolstencroft
Rhys Woolstencroft

, rhyswoolstencrofttennis@gmail.com
Rhys Woolstencroft

Rhys (pronounced Reese) is looking forward to being outside this summer and coaching and playing tennis.
Rhys has played tennis since he was four and has been involved in volunteering and coaching with the junior programs and summer camps at Thorncliffe Park and Moore Park for the past two seasons.
Rhys enjoys interacting with kids of all ages helping them to develop the fundamentals of their tennis game through drills and games designed to develop racquet skills and footwork, helping them learn the rules of the game and, most importantly, putting the emphasis on fair play and fun! Rhys is only available for lessons with juniors.
rhyswoolstencrofttennis@gmail.com
$60.00
$35.00
$25.00
$20.00
Amad Ahmed
Amad Ahmed

(647) 909-8045, amad.ahmed12@gmail.com
Amad Ahmed

Amad grew up competing Provincially, Nationally and internationally as a
junior. He has competed in several ITF events at the professional level, traveling throughout Europe and North America. Amad started coaching 5 years ago and he is Tennis Canada certified.
He has coached at various summer camps in the GTA and has experience coaching all levels of players from complete beginners to international level players.
Amad is looking forward to working at TPTC this season. He is available for private lessons with any level of player and he is excited to help everyone reach their full potential.
(647) 909-8045
amad.ahmed12@gmail.com
$60.00
$35.00
$30.00
$25.00
David Sole
David Sole

(416) 735-6620, dfsole@yahoo.com
David Sole

David has been teaching tennis since he was 16 years old. He was trained by Peter Burwash International. David has worked at the Toronto Lawn Tennis Club, the Boulevard Club, North Toronto Tennis Club and is currently an assistant pro at Oakdale Country Club.
David will be running our Tuesday afternoon Round Robin every week. He will also be teaching some of our Daytime Clinics throughout the season. He will be available for private lessons on Tuesdays between 10am-2:30pm and Thursdays between 9am - noon.
(416) 735-6620
dfsole@yahoo.com
$60.00
$35.00
$30.00
$25.00
Marta Chytchian
Marta Chytchian

(416) 804-2680, martachytchian@gmail.com
Marta Chytchian

Marta began playing tennis at the age of 7 in Lviv, Ukraine. She was taken to tennis courts by her brother and all of a sudden tennis courts became her favorite place to spend her time at.
As a junior, she was one of the top players in Ukraine competing at high-level tournaments and championships around Europe. When Marta turned 14, she began taking part at ITF tournaments and the next 3 years were successful and final in her tennis career.
As a tennis coach, Marta is passionate about helping people make progress and become a better player every time they step on court. She offers both group and individual lessons for people of all ages and levels.
(416) 804-2680
martachytchian@gmail.com
$60.00
$35.00
$30.00
$25.00